"...a master storyteller."*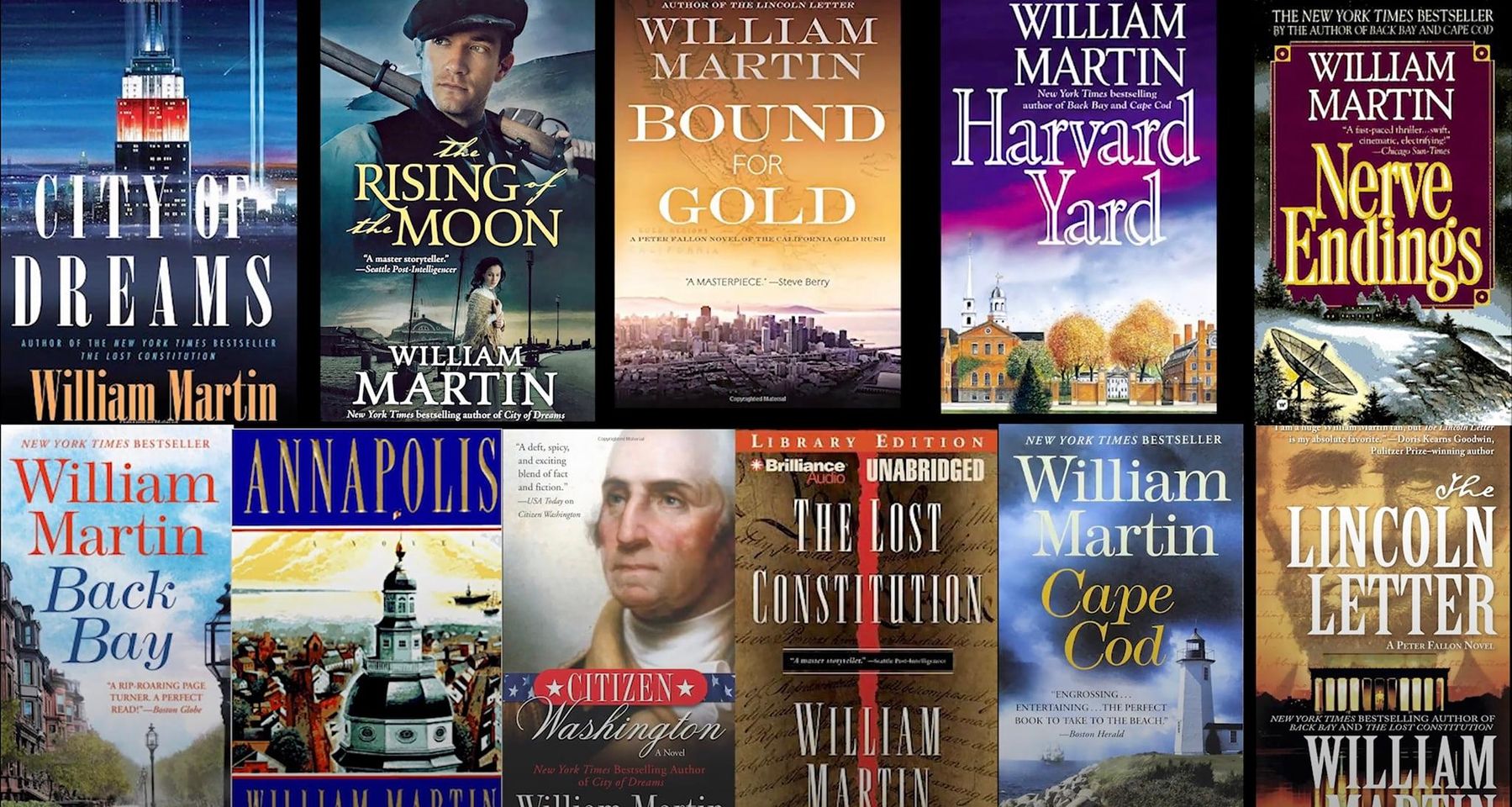 BACK BAY
Peter Fallon's first adventure, now in its FIFTH decade in print. Available in mass market paperback, trade paperback, ebook, and audiobook. A New York Times Bestseller
"A rip-roaring page-turner, a perfect read that leaves you hanging on to the last paragraph." -- Boston Globe.

HARVARD YARD
Peter and Evangeline get together again after twenty years or so and go looking for a lost Shakespeare manuscript. Available in Audiobook and soon to be re-published as an ebook. A NEIBA and Boston Globe Bestseller.
"Mesmerizing... Harvard Yard shines as both a literary and historical mystery." -- NewMysteryReader.com

THE LOST CONSTITUTION
The third adventure, a mad chase across New England that ends on the first night of the World Series at Fenway Park. Available in audio and ebook versions. A New York Times Bestseller. A Booksense Notable Book.
"An engrossing family saga peopled with beautifully drawn characters set in New England's mill towns and forests from the days just after the Revolution through the Civil War and into the twentieth century. Thrilling. Highly recommended." -- Library Journal
CITY OF DREAMS
Peter and Evangeline go to Manhattan in a novel that sweeps you through the history of the legendary island. Available as audio and ebook.
"Martin can spin yarn after yarn that keeps you guessing, holding your breath, stunned... an almost epic sweep." -- Providence Journal

THE LINCOLN LETTER
Peter Fallon looks into Lincoln's eyes in his fifth adventure, and the Civil War explodes before us. Available as massmarket paperback, audiobook, and ebook. A Boston Globe Bestseller. A Barnes & Noble Bestseller.
"Martin has the uncanny ability to seamlessly interweave a modern story with historical events. This is one of [his] best efforts... Walt Whitman, Oliver Wendell Holmes, Clara Barton, and John Wilkes Booth all become real people in this terrific story. Civil War Washington itself becomes a character." -- Historical Fiction Society Journal

BOUND FOR GOLD
The Gold Rush. An epic adventure that travels from staid old Boston, around the Horn to raucous San Francisco, then up the river to Gold Country. Americans build a new civilization in America's first, true melting pot.
"William Martin solidifies his claim as King of the Historical Thriller in the glittering Bound for Gold... an expansive tale drawn on a bold, bright canvas." -- Providence Journal
"This adenalin-packed adventure is sprinkled with love, betrayal, and violent death: old-fashioned storytelling at its best." -- Booklist, starred review

* Seattle Post-Intelligencer